1. About families who waited in Japan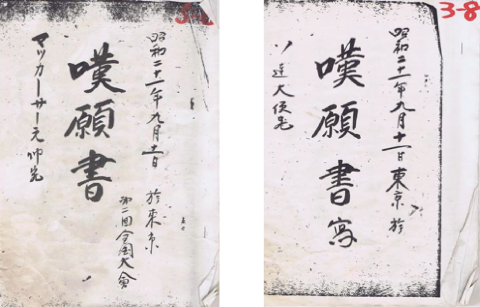 | | |
| --- | --- |
| September 11th in 1946 | September 11th in 1946 |
| Petition to General MacArthur | Petition to Soviet Ambassador |
| at the 2nd all Japan Convention in Tokyo | at the 2nd all Japan Convention in Tokyo |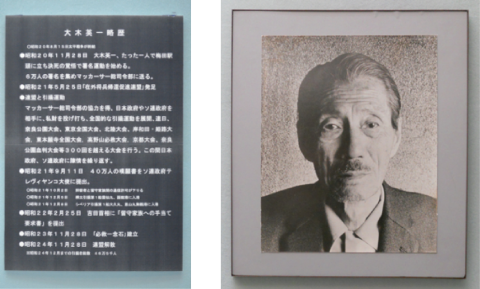 Eiichi Oki began to collect signatures for his petition all by himself at Umeda station on Nov. 28th, 1945.  He eventually got petitions from 60,000 people and sent it to MacArther's headquarter.  He started "Alliance of Acceleration of the Return of the Soldiers Ouside Japan."  After the alliance gained support by the headquarter, he initiated more than 300 rallies every day, all over Japan such as in Nara park, Tokyo, Hokuriku, Himeji, Kyoto etc.  He continued to send the petition to the Japanese and Soviet government during this time.  On September 11th, he submitted the petition signed by 400,000 people to the Soviet ambassador Derevyanko.  As a result, correspondence between the detainees and family in Japan was permitted, the first repatriates came back from Sakhalin and the first repatriation boat came back from Siberia on Dec. 8th in 1946.  On Feb. 25th, he submitted the request of financial assistance for the families waiting in Japan to the prime minister, Yoshida.  On Nov. 28th, the alliance disbanded when the numbers of returnees from Siberia reached 465,000.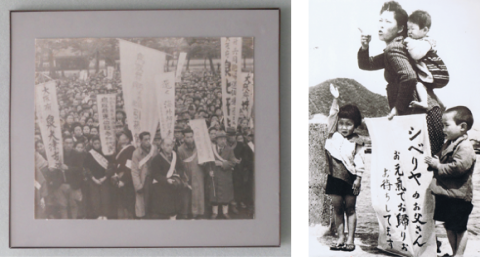 Photo of one of the rallies lead by Oki | A family waiting for "Daddy's" return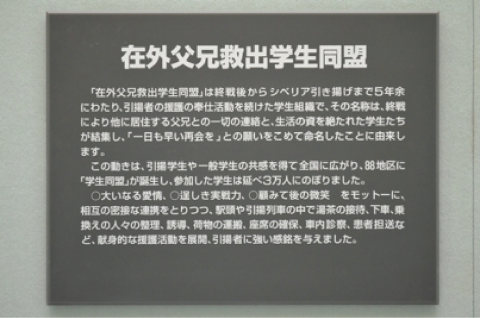 Alliance of Students Rescuing Fathers and Brothers Outside Japan
 This alliance was administered by volunteering students who helped the repatriates  for about five years from the end of the war.  It was originated by students whose communication and financial backing from the men in the family were totally cut off due to the family member's imprisonment in Siberia.  Their movement was widely supported by other students in Japan, and eighty-eight alliances were created, and the participanting students numbered upto 30,000.  Their mottos were "abundant love, " "prompt actions, " "smiles after contemplation. "  They contacted each other very closely in order to extend their support to welcome back the repatriates from Siberia during their trip back to their hometown—they secured seats, served hot tea on the train, guided their train transfer, carried luggage, gave medical examination on the train, and often transported patients to hospitals etc.